Atlanta Magazine's 500 Most Powerful Leaders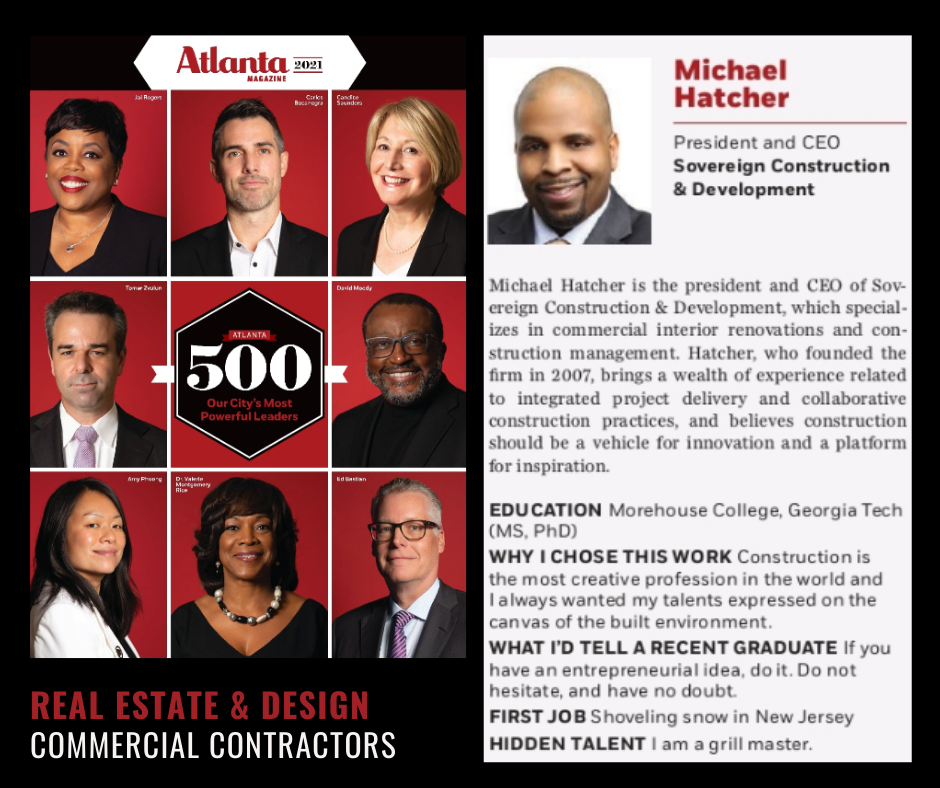 Every year, Atlanta Magazine releases their 500 Most Powerful Leaders list. It incorporates CEOs of the largest companies, managing partners of big law firms, current presidents of professional organizations, heads of top nonprofits/educational institutions/arts groups, leaders of government or civic organizations, and executives serving on nonprofit boards. This year features our very own President, CEO and Leader Dr. Michael Hatcher.
About his achievement, he said: "Earlier this week I was selected as one of Atlanta's most powerful and influential business leaders. There are over 6 million people that live in metropolitan Atlanta, and I am honored and humbled to be listed alongside such a select and accomplished group of people making a positive impact on our amazing city. Even more thrilled and excited to make the list with a number of my Morehouse brothers, fellow Georgia Tech alums, and esteemed colleagues from the world of real estate and construction. In accepting this recognition, I am more driven and committed than ever to the Mission: elevating the quality of life for ALL by creating a better built environment. When we build better places, we build a better future for ourselves and those that will one day follow in our footsteps. On the road to accomplishing this mission, everyday I will learn more, grow more, and give more; but most importantly, I will build and I will KEEP BUILDING!".
Michael Hatcher has an extensive background that led him to receive this accolade. Before founding Sovereign, Michael worked for an engineering services company as a project manager. As a LEED AP, he has completed a LEED certified renovation project which achieved Gold level certification in Charlotte, North Carolina and recently completed the Auburn Avenue Research Library which obtained LEED Silver certification. Michael is committed to the continued improvement of the Construction industry and more specifically the manner by which projects are procured and delivered. As a result he has a wealth of experience and education related to integrated project delivery and collaborative construction practices.
Having studied a Bachelor of Arts at Morehouse College, Hatcher moved on to The Georgia Institute of Technology earning a Master of Science and a Doctorate of Philosophy in Building Construction & Integrated Facilities Management. Dr. Hatcher also has vast experience managing large-budget projects, such as the restoration of Sweet Auburn's Curb Market and the Imperial Hotel renovation.
This award serves as a recognition for Sovereign as well: having Michael's values and integrity embedded in our core, allows for laser-like focus on our organizational mission: to elevate the quality of life for all by creating a better built environment. As long as the mission remains to be accomplished, we will keep building.