Atlanta Magazine's 500 Most Powerful Leaders 2022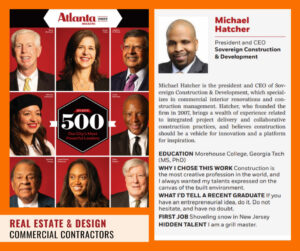 Atlanta Magazine's 500 Most Powerful Leaders 2022
As customary, Atlanta Magazine released their  500 Most Powerful Leaders list this month. It  incorporates CEOs of the largest companies, managing partners of big law firms, current presidents of professional organizations, heads of top nonprofits/educational institutions/arts groups, leaders of government or civic organizations, and executives serving on nonprofit boards. For the second year in a row, our very own President, CEO and Founder  Dr. Michael Hatcher is featured on this list of renowned leaders. Talking about his achievement, he posted:
"Success is liking yourself, liking what you do, and liking how you do it…
For the second year in a row, I was selected as one of Atlanta's most powerful and influential business leaders by Atlanta Magazine. And once again, it's an honor to make the list with a number of my Morehouse College brothers, fellow Georgia Tech alums, and esteemed colleagues from the world of real estate and commercial construction. This year, I promise to keep elevating the quality of life for all by creating a better built environment. A big thank you to my family and Karen, my wife, for always providing love and support… 2022 is the year to KEEP BUILDING!".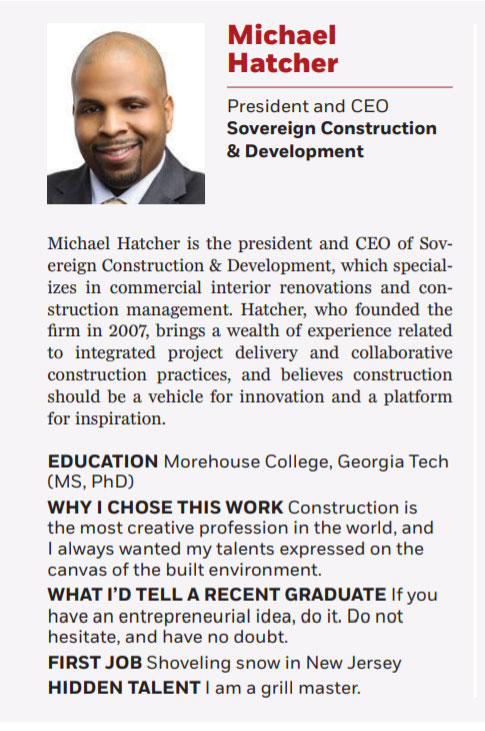 Michael Hatcher has an extensive background that led him to receive this accolade. Before founding Sovereign, Michael worked for an engineering services company as a project manager. As a LEED AP, he completed a LEED certified renovation project which achieved Gold level certification in Charlotte, North Carolina and  completed the Auburn Avenue Research Library which obtained LEED Silver certification. Michael is committed to the continued improvement of the Construction industry and more specifically, expanding the profession to include more diverse population groups within the industry's membership and elevating the practice of integrated project delivery methodologies and construction client experience. Dr. Hatcher truly believes that construction should not only improve the human condition, but it should make people feel better about the way they engage with the built environment, at home, work and play. Having studied a Bachelor of Arts at Morehouse College, Dr. Hatcher moved on to The Georgia Institute of Technology earning a Master of Science and a Doctorate of Philosophy in Building Construction & Integrated Facilities Management. Dr. Hatcher also has vast experience managing large-budget projects, such as the ATL West Parking Deck at Atlanta's Hartsfield-Jackson International Airport and the Juniper & 10th Multi-Family Highrise Renovation in Midtown, Atlanta
As Sovereign, we couldn't be more proud of what our Founder and President has achieved; it's his leadership and commitment to our mission as an organization that has brought us where we are today. As we move forward, we will continue to elevate the quality of life for all by creating a better built environment, and most importantly, we will continue being CONSTRUCTION INNOVATION LEADERS that love to build great things designed to enhance the lives of the many.